Our Tacoma Sprinkler Installation Team Makes Your Lawn Look Good!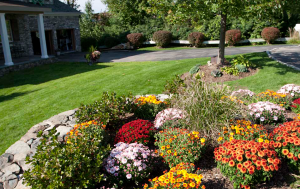 We are all about giving your home or business a world class appearance. A well maintained landscape makes a positive and lasting impression on potential clients and neighbors. A well designed and maintained landscape with lively foliage and flower beds surrounding an inviting area of grass emanates a sense of caring and attention to detail that can make or break a first impression. When you see a well maintained landscape what do you think about the owners? Chances are you think good thoughts. When a yard isn't well maintained the opposite is true.
We want people to think good things about you and are ready to help you design and maintain a professional looking lawn area.
Our sprinkler installation and repair team is ready and able to take your existing lawn area from dull to show stopping in a matter of days. Our professional team will help guide your planting plan to create a beautiful and low maintenance yard with ample seating and play areas that meet your needs. Our corporate customers already benefit from the classic style that we like to present.